Pallet Solutions - Wooden Pallets
Standard and Custom-Built Wooden Pallets
Herwood Inc. offers a wide variety of standardized wooden pallets that your business can choose from. Our quick-response production team allows us to fulfill orders quickly and efficiently using lean manufacturing processes. That saves time and money, for your business and ours.
Have Specialized or Valuable Shipments?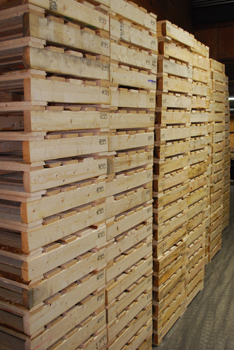 No problem! We also custom design and build wooden packaging solutions tailored to your exact specifications. Our current client's have a wide variety of wooden packaging needs and rely on our quick-build process when it comes time to ship their products worldwide.
If you're looking for specialized wooden pallets to ship a valuable item or odd-sized/shaped piece give us a call (1-800-884-4907) to discuss your needs. Our designers will quickly assess your needs to design and build a cost-effective and high-quality solution. We won't waste your time, and can produce quality packaging solutions that meet your expectations.
Herwood Inc. is fully licensed and certified to meet and exceed the strictest international heat-treatment standards (ISPM-15). This guarantees the safety and freedom of your shipment to move across any international border without delay. Click here to find out more about our heat-treated wooden pallets.
Herwood Inc. designs and manufactures high quality wooden pallets for a wide variety of shipping needs. Our clients range from food, industrial and pharmaceutical companies to manufacturing and transportation businesses. Our wooden pallets made from quality components provide our clients with reliable products at a great price.
We offer an unlimited variety of custom models on top of our standard sizes of wooden pallets. We will custom design wooden containers to your exact specifications. Wooden containers provide the extra protection and security that many companies require, so finding a company who manufactures wooden containers built to your specifications will save you time and money.
Herwood Inc. not only manufactures wooden pallets, but also all of the components that go into producing our pallets. Each of our wood pallets are manufactured using only the highest quality components, specifically selected in order to guarantee that all our products offer the best packing solution for your cargo. Quality components result in quality products.